More updates at The Ranch
Two new bench seats have also been installed along the recently completed walking tracks around the billabong. They are facing the billabong providing great views to enjoy!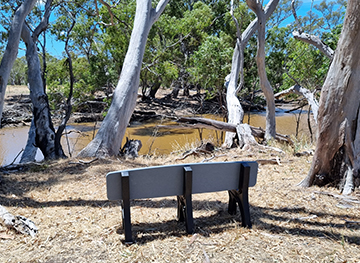 October 18, 2021
We have been working with Barengi Gadjin Land Council (BGLC) on helping manage and monitor things at The Ranch, Dimboola.
The Ranch has been home to many generations of Wotjobaluk people, long before European settlement and increasingly after Ebenezer Mission at Antwerp closed. There is a strong cultural connection to the site remains and the land. Barengi Gadjin Land Council owns and manages The Ranch Billabong on the western side of the bridge at Dimboola.
Staff from BGLC have been undertaking a power of work managing weeds and constructing a new trail around the billabong.
In early October Wimmera CMA coordinated the supply of environmental water, with the Victorian Environmental Water Holder, to give the billabong a top up and freshen the water quality and trigger breeding from the frogs, waterbugs and wetland plants like Old Man Weed (also known as Sneezeweed) that call it home.
These works and the water fresh are providing cultural and environmental benefits at the billabong.
We look forward to continuing to work together with BGLC to care for water and country at special places like The Ranch and elsewhere across the Wimmera.