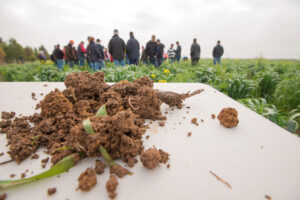 This Webinar Series explores farm practices and innovations that Wimmera farmers can use to increase soil organic matter and improve profitability. The webinars will examine existing and emerging approaches, focusing on local relevance and delivering current research, essential considerations and guidance on implementation.
This webinar series will continue in June after sowing. To receive webinar recordings or details about June webinar dates and topics directly or for more information, please get in touch with pru@ninecreeksconsulting.com.au
Webinar 1 – with Ash Wallace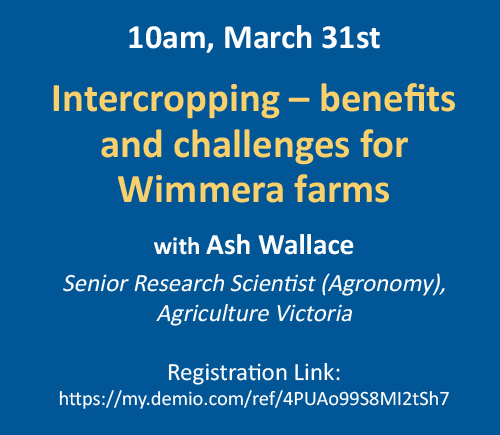 Intercropping involves growing two or more crops simultaneously in the same paddock. Agriculture Victoria has been trialling this practice in the Wimmera and wants to share their latest results with you in our upcoming webinar at 10 am Thursday 31st March.
Tune in to learn what local trials results indicate, the pros and cons and practical considerations for implementation on Wimmera farms with Senior Research Scientist (Agronomy), Ash Wallace.
Register via this link
Webinar 2 – with John Stuchbery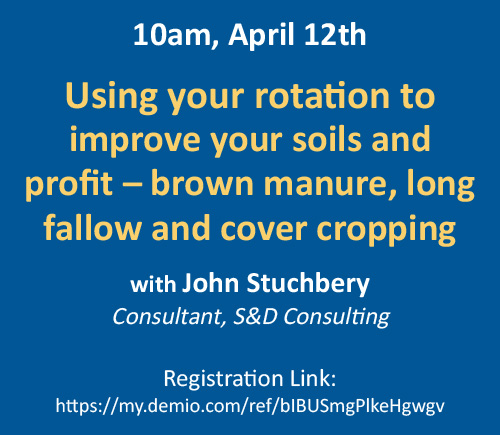 Using your rotation to improve your soils and profit – the role of brown manure, long fallow and cover cropping' with John Stuchbery at 10am Tuesday 12th April.
Register via this link